Dining at Yalbury Cottage
Situated in the oldest part of the cottage, the lounge and restaurant are full of character with oak-beamed ceilings and inglenook fireplaces and exposed stone walls.
The Lounge is the perfect spot in which to enjoy a glass of champagne with canapés while perusing the menu or unwinding after dinner in front of the fire with a coffee and a vintage brandy and provides the perfect setting for an intimate dinner, private lunch party or family celebration.
Our award winning restaurant offers the finest of locally sourced produce from the surrounding area, in a relaxed and informal atmosphere. We have a small but interesting cellar of wines, which will please even the most discerning of wine connoisseurs.
The Menu at Yalbury Cottage is adapted daily with changes to ensure that residents staying 3 or 4 nights have different choices each night. We also create personalized menus for guests with dietary requests to ensure they have a great selection to choose from with peace of mind that their diet has been taken care of.
Our Yalbury Cottage Farmers Market Sunday Lunch is a must try if you are in the area and enjoy wonderful homemade canapés served in the lounge or garden before sampling the best from one of the finest larders in Britain – DORSET!
DINNER RESERVATIONS
If you have not booked dinner, please be aware that IT IS ESSENTIAL to contact us to make a table reservation. We do NOT guarantee tables for our residents.
December 2023 Christmas Season menu pricing and changes:
Please note that menus and prices below are not available during December 2023 due to Christmas menu changes. Our Christmas Season menu and pricing will take effect from 1st - 23rd December. View our Christmas Menu and pricing for December >
FOOD
* 3 Course Dinner £55
* 2 Course Dinner £45
* Main course Only £27.50
* Sunday Lunch £45
* Two Course Sunday Lunch £35
Full English Breakfast £20
Continental Breakfast £10
* Cream Tea £12
* Full Afternoon Tea £25
* Cheese Afternoon Tea £25
Tuesday - Saturday
* Afternoon tea - arrival from 1pm - 3pm
* Dinner - arrival from 6:00pm - 8:30pm
Sunday
* Sunday Lunch arrival from 12:00 noon - 2:00pm
Please note: We close at 4.30pm on Sundays
To book please call us on 01305 262 382
Please note our menu changes for the Christmas season
* There is no afternoon tea in December, only Christmas lunch
* The Christmas lunch menu is the only menu served on Sunday's in December, we will not be serving our regular Sunday lunch menu
* The Christmas dinner menu is the only menu available in the evening in December, we will not be serving our regular menu as well
The kitchen at Yalbury Cottage is headed by the owner, Jamie Jones.
He has worked in some of the top establishment around the world as executive chef for Four Seasons Hotels and Resorts. Having worked in so many different locations Jamie has picked up a wide variety of cooking influences from the Far East, Middle East, and Eastern Europe to the Americas that he has adapted into his Local Dorset produce which can be found on his menus.
Jamie strongly believes in bringing cooking back to its purest form; choosing only the finest raw ingredients from the best suppliers in the county.
As Jamie says, "I produce creative but classical French menus for Yalbury Cottage, using only the best seasonal British fish, meat, vegetables and dairy products available locally, so a lot of emphasis is made on visiting suppliers in the area, searching for the best produce".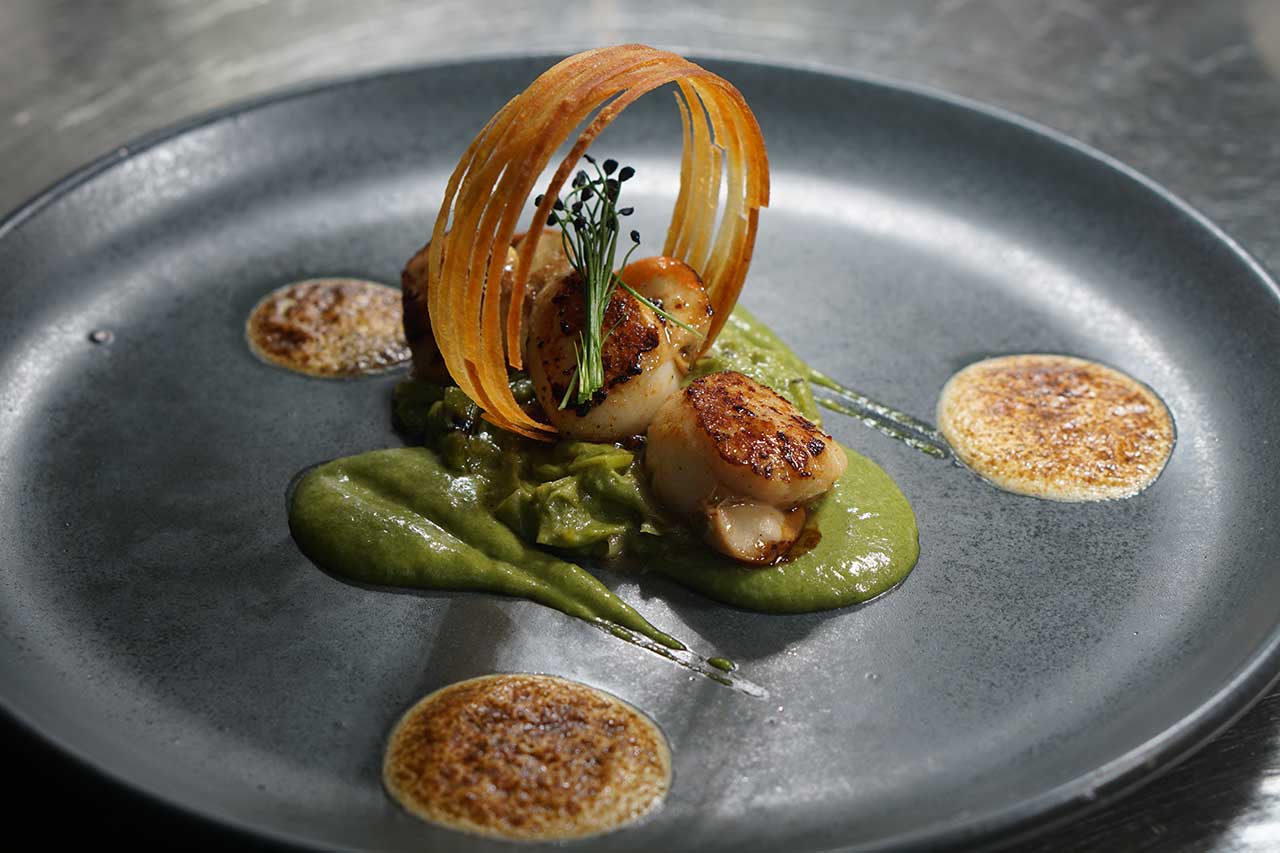 Afternoon tea at the Cottage
Relaxing in our beautiful garden on a hot summer's day or snuggled up in the cosy lounge on a cold winter day with the fire roaring, Yalbury is the place for Afternoon tea or our famous tapa cream tea. Prices from £25.
Phone us on  01305 262 382
to book your afternoon treat!